Why Buying Travel Insurance Online is the Smartest Decision You Can Make
Traveling to new destinations is an exciting adventure, but it's essential to be prepared for the unexpected. That's where travel insurance comes in, offering peace of mind and financial protection during your journeys. With the convenience of the internet, buying travel insurance online has become a straightforward process.
The importance of travel insurance
Travel insurance is an important investment for any traveler. It can protect you financially in case of unexpected events, such as illness, injury, lost luggage, or flight cancellations.
Without travel insurance, you could be on the hook for thousands of dollars in medical bills, replacement costs, or other expenses.
Benefits of buying travel insurance online
Thanks to the digital age, buying travel insurance online has become the norm. Here are some compelling benefits of this approach:
1. Convenience: The most evident advantage of purchasing travel insurance online is the convenience it offers. You can do it from the comfort of your home or while on the go, saving you time and effort.
2. Comparison Shopping: Online platforms allow you to compare multiple insurance providers and policies effortlessly. You can evaluate coverage, pricing, and additional benefits to find the plan that best fits your needs and budget.
3. Access to a Wide Range of Plans: Online platforms provide access to a diverse selection of travel insurance plans. Whether you're looking for basic coverage or a comprehensive policy, you'll find options to suit your preferences.
4. Instant Quotes: Online tools provide instant insurance quotes. You can enter your trip details, and within moments, you'll receive quotes from various insurers, making it easy to make an informed decision.
5. Customization: Many online platforms allow you to customize your travel insurance policy. You can choose the coverage that aligns with your specific travel plans and preferences.
Compare 60 travel insurance plans with just 1 click
6. Paperless Process: Gone are the days of lengthy paper applications and documentation. Buying travel insurance online typically involves a paperless process, which is not only environmentally friendly but also more efficient.
7. Secure Payment Options: Online transactions are secure and offer various payment methods, ensuring your financial information is protected.
8. Policy Documents at Your Fingertips: After purchasing online, your policy documents are often instantly available for download and printing. You can easily access them on your smartphone or tablet during your trip.
9. 24/7 Support: Many online insurance providers offer round-the-clock customer support. This means you can get assistance or file a claim at any time, regardless of your location or time zone.
10. Flexibility: Online platforms are accessible anytime, anywhere. Whether you need to buy travel insurance weeks in advance or last minute, you have the flexibility to do so.
11. Easy Claim Process: Should the need arise, the online claim process is typically straightforward. You can submit claims and supporting documents electronically, expediting the reimbursement process.
12. Price Transparency: Online platforms are known for their price transparency. You can see the full cost of your policy, including any additional fees, before making your purchase.
Tips for buying travel insurance online
Here are some tips to ensure a smooth and informed experience when purchasing travel insurance on the web.
1. Start Early: Don't wait until the last minute to buy travel insurance. It's best to purchase it as soon as you've made your travel arrangements. This ensures you're covered if you need to cancel your trip due to unexpected events.
2. Understand Your Needs: Consider your specific needs and travel plans. Are you traveling solo or with family? Do you have any pre-existing medical conditions? Are you engaging in adventurous activities? Understanding your requirements will help you choose the right coverage.
3. Compare Policies: One of the advantages of buying travel insurance online is the ability to compare policies easily. Take your time to review different plans, their coverage limits, and exclusions. Look for policies that align with your travel itinerary.
4. Read the Fine Print: Before finalizing your purchase, read the policy details carefully. Pay attention to coverage inclusions and exclusions, especially if you have special considerations like medical conditions or high-risk activities.
5. Check for Add-Ons: Consider any additional coverage or add-ons that may enhance your policy. These could include coverage for valuable items, rental car protection, or adventure sports coverage.
6. Use Reputable Websites: When buying travel insurance online, opt for reputable websites and insurance providers. Look for customer reviews and ratings to ensure you're dealing with a reliable source.
7. Review the Claim Process: Understand the claim process of the insurance provider. A straightforward and transparent claims process can make all the difference in a stressful situation while you're traveling.
8. Price vs. Coverage: While cost is a factor, prioritize coverage over price. Saving a few dollars on a cheaper plan might not be worthwhile if it leaves you underinsured in case of an emergency.
9. Be Honest and Accurate: Provide accurate information when filling out your application. Failing to disclose pre-existing medical conditions or other relevant details may result in denied claims.
10. Save Your Documents: After purchasing your policy, save all documents, including your policy confirmation, contact information for the insurer, and a copy of the policy terms and conditions.
11. Stay Informed: Stay informed about travel advisories, health alerts, and local regulations at your destination. These factors can affect your coverage and travel plans.
Get travel insurance quotes from multiple insurers at one go
Get quotes from multiple insurers in 3 simple steps:

1. Fill up a simple form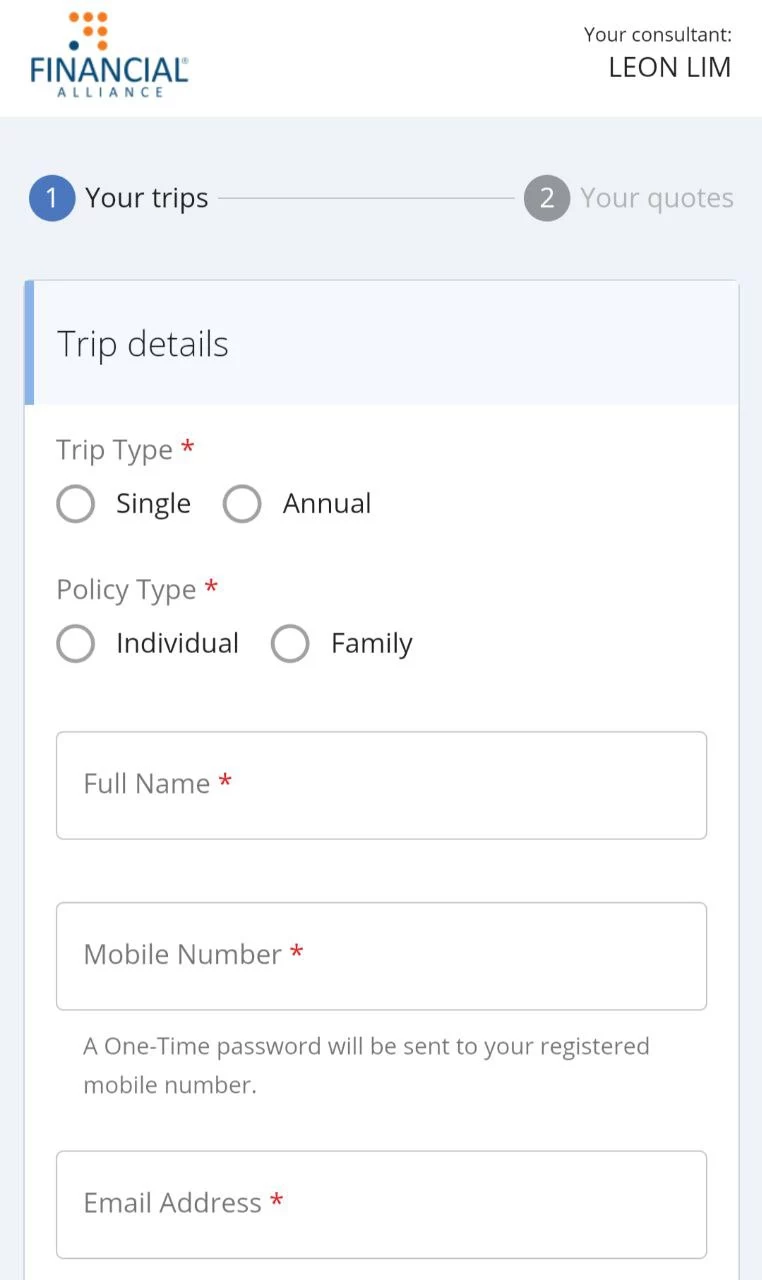 2. Choose from a list of quotations and make a comparison
3. Complete the insurance purchase. That's it!
Common misconceptions about travel insurance
There are several misconceptions about travel insurance that often prevent travelers from fully understanding its benefits. Let's unravel these misconceptions and shed light on the real value of travel insurance.
Compare 60 travel insurance plans with just 1 click
Misconception 1: "I Don't Need Travel Insurance for Short Trips"
It's a common belief that travel insurance is only essential for long, expensive trips. In reality, the duration of your trip doesn't necessarily dictate whether you should get coverage. Short getaways can also be susceptible to mishaps, from lost luggage to sudden illnesses. Travel insurance is there to offer peace of mind, regardless of the trip's length.
Misconception 2: "I'm Already Covered by My Credit Card"
Many credit cards offer some level of travel insurance as a perk. However, it's crucial to read the fine print. Credit card coverage might not provide the same level of protection as a standalone travel insurance policy. Plus, it might not extend to all your travel companions or offer the specific coverage you need.
Misconception 3: "Travel Insurance is All About Medical Coverage"
While medical coverage is a significant part of travel insurance, it's not the only aspect. Travel insurance can also protect you from trip cancellations, interruptions, lost baggage, delayed flights, and even emergency evacuations. It's a comprehensive safety net for a wide range of travel-related mishaps.
Misconception 4: "Travel Insurance is Too Expensive"
The cost of travel insurance varies depending on factors like the length of your trip, your age, and the coverage you select. However, when you consider the financial security it provides in case of unexpected events, the cost often pales in comparison. It's a relatively small investment for peace of mind.
Compare 60 travel insurance plans with just 1 click
Happy Customers
What our clients have to say:
Conclusion
In conclusion, buying travel insurance online is a modern and efficient approach that aligns with the needs and expectations of today's travelers. The benefits are abundantly clear: convenience, comparison shopping, customization, and access to a wide range of plans. It offers instant quotes, paperless transactions, secure payment options, and the flexibility to purchase policies at any time, even at the last minute.
With online platforms, you have 24/7 support and easy access to policy documents, ensuring you're well-prepared for your journey. The claim process is simplified, and price transparency prevails, making it a practical choice for travelers seeking financial protection and peace of mind.
In a world where travel brings endless opportunities and occasional uncertainties, travel insurance purchased online serves as a reliable companion. It's a testament to the digital age's ability to make important aspects of our lives more accessible and user-friendly. So, when you embark on your next adventure, consider the advantages of buying travel insurance online, and enjoy your travels with the confidence that you're prepared for whatever the journey may bring.
Protect your Family with Term Insurance
Get a $1,000,000 term insurance policy for $38.80 per month.
(Male age next birthday 30, non-smoker, cover for 30 years)
Leon Lim (Indra Julie)
Leon is a Certified Financial Planner with over 15 years of experience in the finance industry. Leon is passionate about helping PMEBs (Professionals, Managers, Executives, and Business Owners) achieve their retirement goals and attain financial freedom.